The Binomo platform has been operational in more than 130 countries since 2014. In addition to the site, it has a trading app. This review will highlight its benefits, such as International regulation, free education, various deposit methods, and other reasons why it is in demand among traders who love it so much that they call themselves Binomists.
Who are Binomists?
Binomists are the people who trade on the Binomo platform using their knowledge and strategies. They enhance their trading skills on a demo account and plan their next move. Binomists don't make guesses; they make forecasts based on market analysis. 
Binomists make up a community that shares their values and dreams; they're positive, self-decisive, and always look for new opportunities. At the same time, they are happy to share their ideas with newcomers so that they too can reach the same heights. Mobility is also essential for Binomists, so they choose to trade through the convenient Binomo app.
click here – The Best Creative Software For Making Videos Outstanding
Why do they trade in the Binomo app?
What makes Binomo different from other trading apps? There are so many things that make it an optimal option:
Trading from anywhere.

The platform allows you to trade anytime and anywhere globally with the Binomo app. High internet speed is not required.

Minimum account balance.

Binomo allows its traders to start with a minimum deposit amount. Even if you have only about $5, you can invest cash and trade in the Binomo app and APK.

Trade entry threshold.

The minimum trade amount starts from $1. This cost lets you learn to trade without the risk of losing a significant amount.

Non-stop trading.

Some other platforms might be available only during working time, but  Binomo offers trading without any limit. Binomists can open trades even on weekends and at night.
But these are not the main advantages of the app. Read on to find out what made it famous among thousands of Binomists in India.
#1. Free download on any device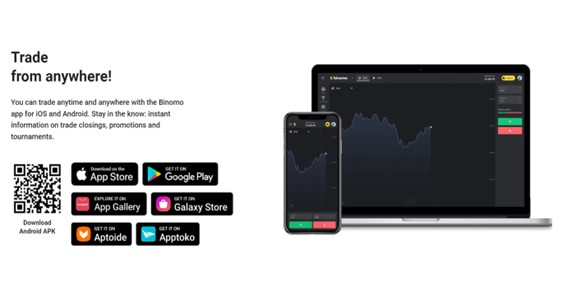 You can download the Binomo trading app on your mobile device for free. The software is available on Google Play and App Store. If you are faced with difficulties, you don't need to hack; there's also an APK version available for Android users. Traders can download it via QR code from the main page https://binomo.com/en/ (no login required).
Traders can't log in to the Binomo app from their PCs and desktops because it is available for only smartphones or tablets, not Windows or Mac.
#2. Quick registration and verification
The sign-up process in the Binomo app is simple and similar to the website. A trader just needs to enter an email address and create a password or sign in with Google or Facebook account.
At any time after registration, account verification may be required. It's needed to secure your data and funds. The verification process on Binomo won't take more than 10 minutes to complete (vs. IQ Option, where there is no automatic process).
Note! It's essential to carefully read the Client Agreement and the Privacy Policy so as not to violate the rules. Be careful while choosing account currency because you can't change it. You will have to close the account and create a new one.
#3. Demo account and free tutorials
The moment you log in to Binomo for the first time, you'll be given access to a demo account. It is a secure environment to get training and start trading for free; A virtual amount of $1,000 is available for traders. Traders can learn educational materials and practice without any risk of losing real funds or contest in the free tournament "Daily Free".
Users can also access the Help Center (FAQ section or analogue of Wikipedia) to learn all about trading. There are answers to questions such as what is Binomo and how does it work, or how to trade on the platform. If this section doesn't resolve your issues, you can contact Binomo support or write to Cody bot 24/7.
Note! Trading is not about winning, and the app is not a place where you learn how to play or make quick money. Trading on Binomo requires technical and fundamental analysis, the right strategy to make a forecast and get additional income.

click here – How To Manage Cashflow Of Your Online Shop
#4. Low threshold of minimum deposit
Once you're done with free practice on Binomo, you can switch to a real account by making a deposit. The welcome bonus available within 30 minutes after registration can increase your first investment by 25%.
There are so many deposit options on Binomo. Popular ones for India are Netbanking, UPI, Paytm, Indian Exchanger, GlobePay, PhonePe, etc. Note that PayPal isn't among the available payment methods.
#5. VIP account
Being a Binomist, everyone's preference is to get a VIP account. What free bonus does it offer? There are several of them:
The deposit bonus is up to 200% (Prestige Club members get even more).

A personal manager can give a Binomo bonus coupon or code

in the amount of ≤100%

.

No-deposit bonus in the form of risk-free trades and deposit insurance (if the VIP client's balance drops to zero in an unproductive week, part of the investment will be compensated).
Carefully read the Terms and Conditions for using each bonus. For example, some Binomo bonuses can only be withdrawn after completing a Trading Turnover.
#6. Fast money withdrawal from Binomo
If you ask how to withdraw money from Binomo, know that the app provides a fast and convenient process. You only have to use the same method for your withdrawal with which you made a deposit. This rule has been introduced for security reasons.
The minimum amount is just $10. Withdrawal can take a few minutes to 3 days or more after the request has been made. VIP account holders get the fastest approvals, i.e., up to 4 hours. But still, the final time of crediting depends on the provider.
Indian traders are allowed one withdrawal daily without a fee (on all transactions). IQ Option vs. Binomo charges a commission of $31 for wire transfer.
Briefly about why Binomo is a legit company
Even though some people may think the platform is a scam or illegal, Binomists trust the company for weighty reasons. Binomo isn't a fake; it has a real head office. The trading app is legal in India and available in 13 languages, including English, Hindi, etc.
You can check if the company is a fraud from reviews on different forums on the web like Quora. Another proof that Binomo is really reliable is a trade quality certificate from Verify My Trade and International awards. The platform assures safety as it is regulated by the Financial Commission. Сlients may contact this impartial organization if they want to make a claim or resolve any dispute with Binomo.
Start your trading journey with Binomo
Join Binomo by starting trading in the app, as it has everything you need to expand your financial empowerment. Remember that even experienced Binomists cannot avoid the risk of losing the deposit. However, you can lessen it by practicing. Learn how to trade on a demo account, use all tutorials, and develop your trading strategy avoiding signals and tips from outsiders. The Binomo company also offers brokers the BinPartner affiliate program to get additional profit.